How much lip filler looks good?
Lip filler, like most other procedures in the "minimally invasive" category of aesthetic medicine, is gaining popularity.  In the past, overdone lips were seen in the tabloids and now this has started to fade from sight.  The natural look is in, but what does that mean in terms of filler amounts?
The right amount of filler to achieve a natural-looking, full set of lips will differ from person to person.  It depends on your age, the size of your lips to begin with, the amount of looseness or deflation that has taken place, and what your goals are.
Here in NY, most of my clients feel that less is more when it comes to the lips, and I agree with them.
Most lip filling is done with hyaluronic acid-based products.  Hyaluronic acid (or HA) is a substance that is naturally found in our bodies, so it is well tolerated when it's used to create volume, and it naturally degrades over time as our metabolism does its thing.  Restylane, Restlyane Silk, Juvederm, and Belotero are all examples of soft HA fillers that work nicely in the lips.
HA fillers generally come in 1 milliliter vials or syringes.  A milliliter is less than a teaspoon :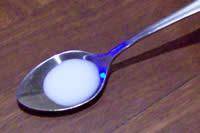 1 milliliter depiction (courtesy of mathisfun.com)
This amount of filler in the lips can be dramatic or subtle, depending on the structure of the lips to begin with.
What does 1 ml of lip filler look like?
The image below shows one of my patients before filler (top left), after 1 syringe (1 ml) of juvederm (top right), and a month later after a second syringe was added (bottom left).  After one syringe, you can see the lips look fuller but still natural-looking.  After two, the lips are fuller than natural.
A secondary benefit is the lines around the lips are less noticable after having filler treatment.
I've found that most of my clients who want lip filler in NY do well with 1/2 to 1 syringe for the first time they have lip filling so they have a natural look that isn't too big of a change from what others are used to. After 2 months, additional filler is added to achieve the final desired plumpness.
Lip filler is done in the office within minutes with little to no recovery time, although most people have some temporary swelling for a day or two.  A quick numbing technique makes the process easy and painless.