Double eyelid tape and glue – an Asian lid crease without surgery
Double eyelid tape creates an Asian crease without surgery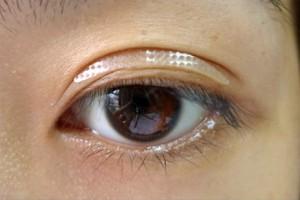 How do you get an eyelid crease without going under the knife? You use tape or glue.  There have been countless times here in my cosmetic eyelid surgery practice in NYC that patients have come in with lid tape to achieve a double eyelid or to create symmetry between the two eyelids.  Many of them will eventually have surgery which is more permanent.
How does eyelid tape work ?
There are many different types of eyelid tape on the market, some using thinner strips, some more tranparent, and some are barely noticeable.  They work by forcing the eyelid skin to crease and at the same time they expose an area of eyelid platform, framing the eyes and making them appear to be more open.
Some varieties of eyelid tape come with an applicator so the tape can be evenly applied at the desired level with consistent a consistent pressure and shape: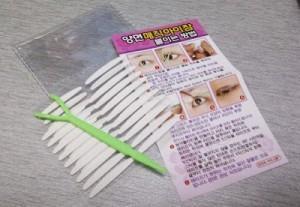 Is lid tape only for Asians ?
Anyone can use eyelid tape to attempt to raise the fold of upper eyelid skin.  I've seen it used successfully to reduce sagging of extra skin in non-Asians.
Tape vs. eyelid surgery
Eyelid tape has some downsides.  The adhesive on the tape can become an allergen, causing redness and itching of the eyelid skin.  It can also fall off during the day, and it can sometimes be visible to others.
Using eyelid glue also has risks, including getting glue in the eyes which can lead to an injury.
Surgery has it's own set of risks but in general, eyelid surgery is safe although it does have a recovery period which can be a week or more.  I've seen an increasing demand for Asian eyelid surgery in my NY practice as there is a large Asian population in New York City.
What about creasing tools?
Because there is such a popular demand for double lids in Asia there is a big market for gadgets that are meant to create a more defined lid crease. Some of these gadgets look like medieval torture instruments but made in colorful plastic hues.
There is no evidence that repeated pressure with a creasing tool will help to define an eyelid crease.  If anything, they could induce eyelid ptosis, or a droopy eyelid if there is excessive, repeated pressure on the eyelid.
If you are interested in improving your  eyelid crease definition and tape just isn't doing it anymore, seek a consultation with a cosmetic eyelid surgery expert that is experienced with double eyelid surgery.
https://www.drkotlus.com/wp-content/uploads/2015/03/Double.png
788
940
drkotlus
//drkotlus.com/wp-content/uploads/2013/04/name-png-300x811.png
drkotlus
2015-03-26 18:50:11
2015-03-03 09:17:54
Double eyelid tape and glue – an Asian lid crease without surgery